Aims and Scope
D Bonamonte, P Romita, A Filoni, G Angelini, C Foti
---
Airborne dermatoses are complaints linked to external environmental, chemical, and biotic agents carried through the air. In general, airborne dermatoses that are most common in the work environment, tend to cause diagnostic problems that are challenging for both the patient and the doctor. It should also be borne in mind that since the external culprit agents are present in the environment, they do not only come in contact with the skin and mucosa, but can also be inhaled or ingested, thus also causing respiratory and systemic symptoms. Among the various clinical forms, airborne contact dermatitis interests the parts of the body exposed to the air: face, neck, upper aspect of the chest, hands, wrists. These cases must be differentiated from photocontact dermatitis; in the latter case, however, shadowed anatomic areas, such as the upper eyelids, behind the ears, the submandibular region, and under the hair, are not affected.
---
September 10, 2020
Julia Shah, Lorie Gottwald, Ashley Sheskey, Craig Burkhart
---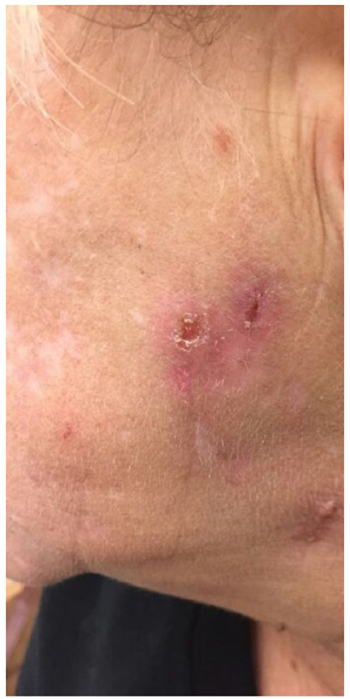 Background:
Pyoderma Gangrenosum (PG) is a disorder of neutrophil chemotaxis that often affects the lower extremities of patients with concurrent autoimmune disorders.
Result and Discussion:
Resolution of lesions typically requires a minimum of six weeks of treatment with systemic steroids. We present a unique case of multifocal PG involving the hand and face that healed after ten days of treatment with oral prednisone.
---
June 14, 2018